Salem Lutheran Preschool
Looking back when my two daughters were growing up, I remember many milestones, with one of those being their first day of preschool. After checking out different programs in the community, I choose a church preschool and was excited to know my daughters (five years apart) would be learning and growing in a caring and loving environment. I was never disappointed, as they often came home telling me about new things they had learned, or sharing some great adventure.
Now I'm entering into that same kind of experience with my two-year-old grandson, Carson, at Salem Lutheran Preschool, in Salisbury, NC. Even though he's attending a different preschool from his mom, I can tell it, too, has a caring, learning environment where children thrive and are happy.
Once a week I have the privilege of driving my grandson to school. On the way, sometimes I ask him where we're going and he'll answer, in his two-year-old voice, "We're going to preschool." As soon as we arrive, he knows where we are and can't wait to hop out and get his day started.
While talking with the director, Dana Robertson, one morning not long ago, she shared some of the goals the faculty and staff have for the children in their care. Along with the goals is the philosophy that each boy and girl is a child of God, unique and special in their own way. Using that philosophy as their standard, children are given opportunities to explore, experiment and ask questions. The hope is through these experiences children will develop a new independence in the world both inside and outside the home, developing friendships along the way.
Following is a quote from the preschool's mission statement: "Under the leadership of caring, qualified teachers, classes provide a balance of age-appropriate creative art, music, devotions, outdoor play, story time, dramatic play and group activities."
People in both the private and public sector of education can talk about goals and philosophies all day long, but the proof of the message is in the development and response of the children.
All I can say is that I see the proof every week when spending time with my grandson. Sometimes he sings one of the songs he's learned and sometimes he tells me about a special event, like when the fire trucks came. There's no doubt in my mind Carson's already learning that learning can be fun. What an awesome gift to give to a child.
Congratulations, Salem Lutheran Preschool! Because of your willingness and devotion to prepare the next generation for the future physically, socially, intellectually and spiritually, you are my favorite place of the week.
To learn more about Salem Lutheran Preschool, check-out their website here.
(The following photo was taken of the two-year-old class posing for the camera. My grandson is the one with the really big smile). Photos used with permission from Salem Lutheran Preschool.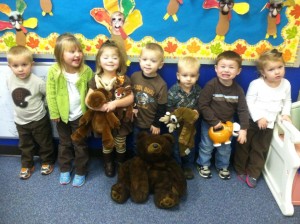 What about you? Do you know of a preschool in your community making the world a better place one child at a time? If so, leave a comment, message on Facebook, or email dicysm@yahoo.com
Thanks,
Dicy
www.dicymcculloughbooks.com/blog